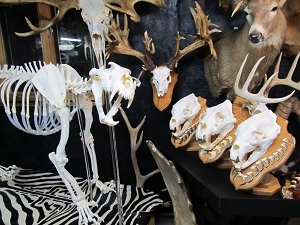 I have a PASSION for skulls!

My home, about me page is really NOT ABOUT ME, it is ABOUT YOU!

Its about how I can help you make your European skull mount a beautiful piece of art ready to proudly display.

This is where my 18 years experience comes into play.


My PASSION is what drives me to constantly look for better ways to improve my work.

My JOY is seeing the transformation of a raw skull into a beautiful showcase piece of art.

Oh yes, I almost forgot, I am Jeff Gustafson from northern Wisconsin. <><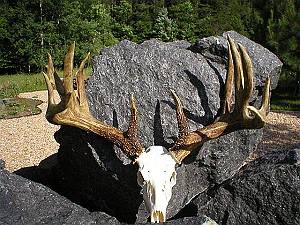 Most Noteable: A bull elephant skull and African lion skull I did for Jim Cabela of Cabela's. I enjoy doing large carnivores and for those of you that are familiar with the Boone and Crockett Book scoring system my four best black bear skulls are:
22 12/16"
22 11/16"
22 11/16"
22 9/16"

These are official scores and rank very high. Two of them ranked in the top ten in the world at one time.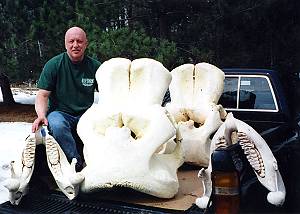 Okay, for those who might want to know about me here is a little bit.
I never planned on being into skull cleaning, it was purely by accident.
I was into rock gardens and wanted a European mount cattle skull for that southwestern look. I found a farmer who had a fresh cattle skull so I took it home and went to work on cleaning the skull.
I discovered I really enjoyed working on that texas longhorn skull.
That was the catalyst that got me started on skull cleaning.
That was over 15 years ago and my passion for skull cleaning has become an obsession.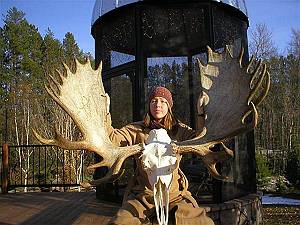 I am collecting skulls and searching for skulls all the time.
As far as large carnivore skulls go I have done polar bear skulls, kodiak brown bear skulls, grizzly bear skulls, black bear skulls, timber wolf skulls, African lion skulls and mountain lion skulls.
I have also done bighorn sheep skulls, buffalo skulls, moose skulls, elk skulls, mule deer skulls, antelope skulls, warthog skulls, elephant skulls, wild boar skulls, watusi skulls, texas longhorn skulls, scottish highlander skulls and baboon skulls.
My obsession and evolving skull cleaning business has allowed me to quit my day time job 15 years ago. Now I am a full time shop and living my dream in northern Wisconsin.
See more of my animal skulls in my animal skull gallery.
Skullery.....Jeff.....<><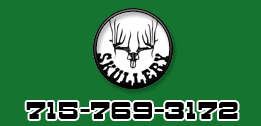 Jeff Gustafson
W9169 Gustafson Road
Butternut, Wi. 54514
skullery77@hotmail.com

---